Our small organic fertilizer production line provides you with guidance on organic fertilizer production technology, technology and installation.
For fertilizer investors or farmers, if you have little information about organic fertilizer production and no customer source, you can start from a small organic fertilizer production line.
In recent years, the state has formulated and issued a series of preferential policies to support the development of the organic fertilizer industry. The greater the demand for organic food, the more demand there is. Increasing the application of organic fertilizer can not only essentially reduce the use of chemical fertilizers, but also improve crop quality and market competitiveness, and is of great significance for the prevention and control of agricultural non-point source pollution and the promotion of agricultural supply-side structural reform. At this time, aquaculture enterprises have become a trend to make organic fertilizers from excreta, not only requiring environmental protection policies, but also seeking new profit points for sustainable development in the future.
The production capacity of small organic fertilizer production lines varies from 500 kilograms to 1 ton per hour.
1. Animal excrement: chicken, pig's dung, sheep dung, cattle singing, horse manure, rabbit manure, etc.
2, industrial waste: grapes, vinegar slag, cassava residue, sugar residue, biogas waste, fur residue, etc.
3. Agricultural waste: crop straw, soybean flour, cottonseed powder, etc.
4. Domestic waste: kitchen garbage
5, sludge: urban sludge, river sludge, filter sludge, etc.

We can not only provide a complete organic fertilizer production line system, but also provide a single equipment in the process according to actual needs.
1. The production line of organic fertilizer adopts advanced production technology, which can complete the production of organic fertilizer at a time.
2. Adopt a patented new special granulator for organic fertilizer, with high granulation rate and high particle strength.
3. The raw materials produced by organic fertilizer can be agricultural waste, livestock and poultry manure and urban domestic waste, and the raw materials are widely adaptable.
4. Stable performance, corrosion resistance, wear resistance, low energy consumption, long service life, convenient maintenance and operation, etc.
5. High efficiency, good economic benefits, little material and regranulator.
6. The production line configuration and output can be adjusted according to customer requirements.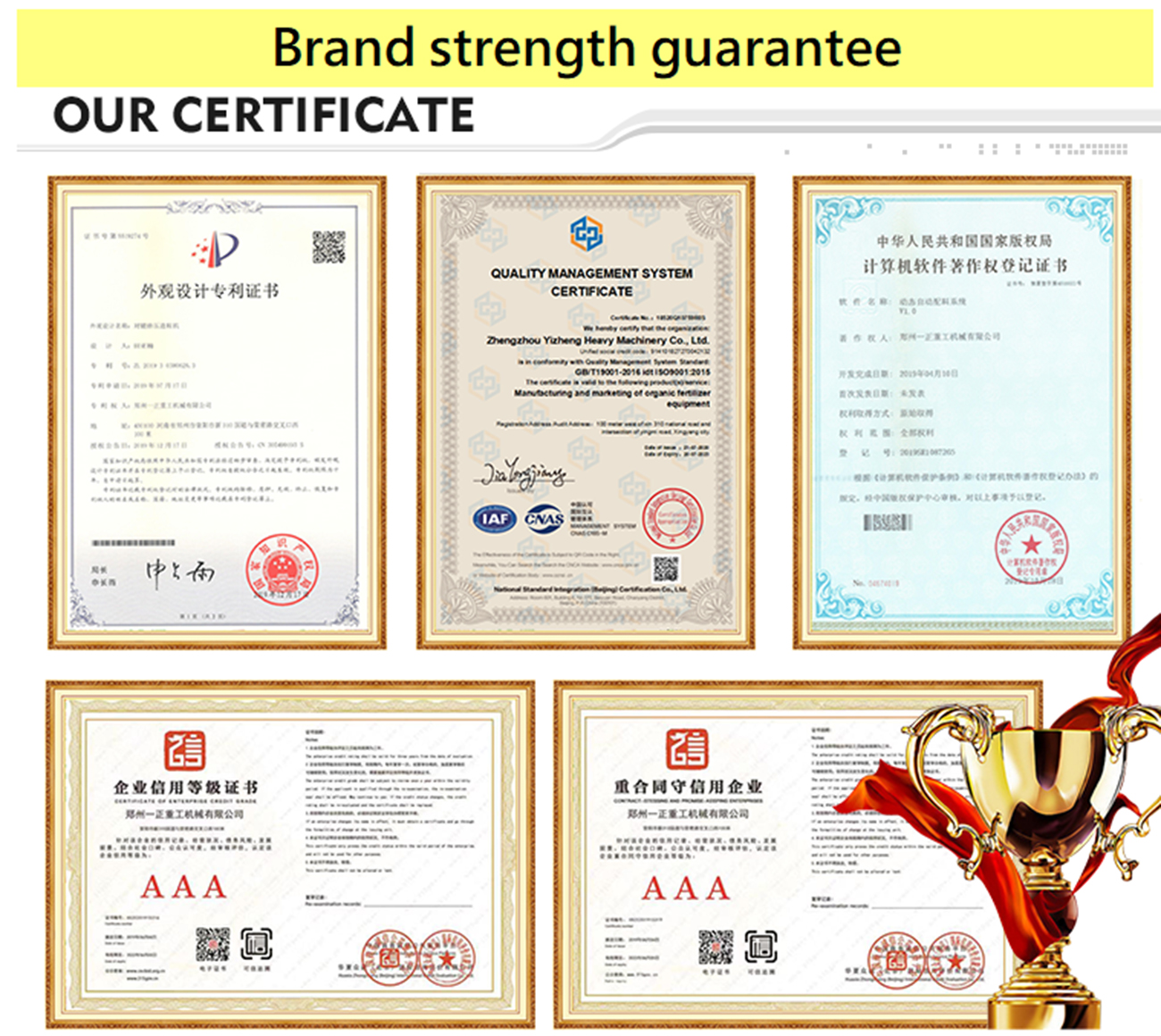 1. Double-axis mixer
The double-axis mixer uses powdered materials such as dry ash and stirred with water to evenly humidify the dry ash powder material, so that the humidified material does not rise dry ashes and does not seep out water droplets, so as to facilitate the transportation of wet ash loading or transfer to other conveying equipment.
| | | | |
| --- | --- | --- | --- |
| Model | Bearing model | Power | Shape size |
| YZJBSZ-80 | UCP215 | 11KW | 4000×1300×800 |
2. A new organic fertilizer granulator
A new organic fertilizer granulator is used for granulation of chicken dung, pig manure, cow dung, black carbon, clay, kaolin and other particles. The organic content of fertilizer particles can reach 100%. The particle size and uniformity can be adjusted according to the relay speed.
| | | | | |
| --- | --- | --- | --- | --- |
| Model | Capacity(t/h) | Granulation ratio | Motor power (kW) | Size L-W - high (mm) |
| FY-JCZL-60 | 2-3 | +85% | 37 | 3550×1430×980 |
3. Roller dryer
The roller dryer is used to dry the molded fertilizer particles. The internal lifting plate continuously lifts and throws the molding particles, so that the material is in full contact with the hot air to achieve the purpose of uniform drying.
Model

Diameter (mm)

Length (mm)

After installation

Shape size (mm)

Turn speed (r/min)

Electric motor

Model

Power (kw)

YZHG-0880

800

8000

9000×1700×2400

6

Y132S-4

5.5
4. Roller cooler
Roller cooler is a large machine that cools and heats down molded fertilizer particles after drying. While reducing the temperature of molded fertilizer particles, the water content is also reduced. It is a large machine to increase the strength of molded fertilizer particles.
Model

Diameter (mm)

Length (mm)

After installation

Shape size (mm)

Turn speed (r/min)

Electric motor

Model

Power

(Kw)

YZLQ-0880

800

8000

9000×1700×2400

6

Y132S-4

5.5
5. Literiform strip grinder
The vertical chain crusher adopts a high-strength amadium-resistant carbide chain with synchronous speed in the grinding process, which is suitable for the grinding of fertilizer production raw materials and refuels.
| | | | | |
| --- | --- | --- | --- | --- |
| Model | Maximum particle size of feed (mm) | After crushing material particle size (mm) | Motor power(kw) | Productive capacity(t/h) |
| YZFSLS-500 | ≤60 | Φ<0.7 | 11 | 1-3 |
6. Roller sieve
| | | | | |
| --- | --- | --- | --- | --- |
| Model | Capacity(t/h) | Power (kW) | Inclination(°) | Size L-W - high (mm) |
| FY-GTSF-1.2X4 | 2-5 | 5.5 | 2-2.5 | 5000×1600×3000 |
The sieve of the roller sieve machine is used to separate standard fertilizer particles and substandard fertilizer particles.
7. Automatic packaging machine
Use automatic fertilizer packaging machines to wrap organic fertilizer particles by about 2 to 50 kilograms per bag.
Model

Power (kW))

Voltage (V)

Air source consumption(m3/h)

Air source pressure (MPa)

Packaging (kg)

Packaging step bag/meter

Packaging accuracy

Overall size

L-W-H (mm)

DGS-50F

1.5

380

1

0.4-0.6

5-50

3-8

±0.2-0.5%

820×1400×2300